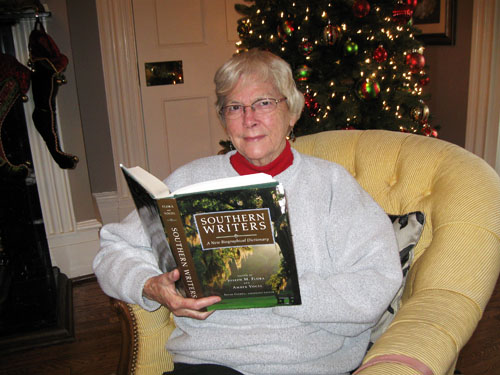 Celia Miles is a native of Appalachia, born in Western North Carolina, and, except for brief stints in Massachusetts and Virginia, plus college in Kentucky and Pennsylvania, has lived here all her life. A long-time English instructor at Asheville-Buncombe Technical Community College, she is retired and living in Asheville. She calls herself "a teacher by trade, a traveler by design, a photographer for fun, and a writer by avocation."
While teaching she co-authored a textbook for the two-year college market (Writing Technical Reports, adapted for the Canadian market as Some Assembly Required. McGraw-Hill, publisher). Now in addition to freelance editing and writing in various genres—thus, a "nicheless author"—her interests include traveling, photography, old grist mills, and Neolithic sites, especially stone circles. Her novels are A Thyme for Love, ThymeTable Mill, Mattie's Girl: An Appalachian Childhood, Sarranda, and (in 2010) Journey to Stenness. Two short story collections are On a Slant: A Collection of Stories and Islands One and All: Stories and Otherwise. With Nancy Dillingham, she has co-edited three anthologies of the work of women writers in Western North Carolina: Christmas Presence, Clothes Lines, and Women's Spaces Women's Places.
Read an interview about my writing life by Netwest Mountain Writers and Poets.
CELIA'S LATEST:

Having quit her marriage and teaching career, Marcy Dehanne, a newly established Mill Consultant, arrives at remote Wrapp's Mill in western North Carolina.  She expects to land her first employment:  implementing the restoration of the small, deteriorating grist mill. She finds, instead, a half-buried body behind the water wheel.The discovery of the corpse, unknown locally, complicates the possibility of restoring the mill, but with the help of a young female deputy—and a decided lack of enthusiasm from the sheriff's office, the owner, and the handsome uncle of the deputy—Marcy forges ahead, risking her life to solve the murder and to restore the mill.

A fan of mysteries and a devotee of grist mills, fifty-year-old Marcy realizes that reading about murder is much safer—if less interesting—than delving headlong into one.

Celia H. Miles has several novels to her credit, but this is her first mystery. In it, she combines her delight in the reading of mysteries and her love of old mills. When not traveling to find and photograph old mills, she lives in Asheville, North Carolina.

Sarranda Boylett's heart is mountain-bound–tied to her grandfather's grist mill and her memory of one night of lavender-scented passion.In the early 1880s Sarranda, accompanied by Lila, a young Irish serving girl, returns to her beloved western North Carolina. With determination and hope as deep as Sarranda's roots, the two meet challenges and obstacles in an isolated community changed by the Civil War losses and the influx of strangers. In a changing world where North and South may meet, even merge, without rancor and bitterness, their grit, grace, and humor allow for opportunity and love in unexpected places. Choosing independence over comfort, the present over the past, they forge new lives for themselves and provide hope and support to impoverished women and children in isolated Greene's Valley.
Sarranda's Heart is about opening to the many kinds of love that may indeed "make all things possible."
BUY THE BOOK